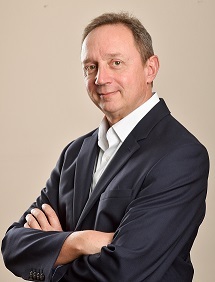 Written by Michael Warrington, CEO-AX Group
AX Group is known for its construction and restoration work, its top-quality hotels in Sliema, Qawra and Valletta, and its advanced age facilities and services. Operating all these are the Group's 1000+ employees, many of whom have been with the company for years.
Central to the Group's employment strategy is AX Careers, an online portal serving as an in-house recruitment agency, which Group CEO Michael Warrington credits for the increasing calibre of candidates.
"AX Careers provides potential applicants with a clear idea of what we are offering and why, and projects the image of the Group effectively as it acts as a kind of shop window on our core values," he says. Handling employment intermediation in-house allows the Group to screen candidates more rigorously, with basic checks being conducted before any CV is passed on to management. "We have had people applying to jobs, previously, who maybe should not be applying for those jobs. Typically, recruitment agencies do not go into the nitty-gritty of a candidate's profile, but by doing so ourselves, we avoid problems later on," he says, adding that social media profiles and Google search results can say a lot about people.
AX Careers also features a resource centre where key people within the organisation provide clear details on a wide range of topics. "People can see who is involved, they can interpret our integrity and core values." "These are things that potential candidates typically look for, but rarely find. We wanted to raise the bar for recruitment because once you've raised the bar, people applying will need to be confident that they can fit into that organisation." Mr Warrington says this creates a win for both sides. "It's a win for those candidates that have potential, and it's a win for us because the people we employ are a better fit."
Ensuring a good fit with the organisation's ethos is important, with around 700 of the AX Group's employees being foreign, many from countries outside the EU. The organisation ensures that such Third Country National (TCN) candidates are a good fit by partnering with agencies in source markets like Eastern Europe, Africa and the Middle East. These agencies sometimes have a bad rep on account of unethical recruitment fees charged to applicants, which can be hefty. AX Group avoids these issues by vetting each agency it works with. Mr Warrington says that "before we accept to work with any intermediary, we would have done our homework on that company".
They go further by making the intermediary recruitment agency sign an agreement with AX prohibiting them from charging commissions to candidates. "If you don't manage those situations, problems come into play once you have employed them, as many people enter into debt to pay that commission." "Then," he continues, "once they are here, a lot of their pay would be spent on repaying that loan, forcing them to live on or close to the poverty line.". "That makes for stressed and anxious workers. Our team is very much on the alert to avoid these situations," he says.
Turning to the challenge of integrating such a large multicultural contingent of employees, Mr Warrington points to the in-house academy set up by the Group. Noting that the Group has been employing non-Maltese for well over 30 years, Mr Warrington says that embracing multiculturalism brings a lot of opportunities, new skills, and different perspectives. The organisation does its best to create a safe and healthy working environment, with sensitivity to things like colour and religion. It pays particular attention to avoid giving offence, by not serving pork for instance. It also has a strict ban on the religious discussion in the workplace, while allowing all employees the freedom to practice their religion freely. "It's about respecting each others' ideals and beliefs," he says. "We set up our academy specifically to help recruits with things like language, but through the training, we also instil our values and principles so that they may approach the job better."
The Group spends hundreds of thousands of euros on training, but Mr Warrington explains that none of it is wasted. "If our employees are satisfied, they will be happier and as an organisation, we can reap the benefits of the feelings of accomplishment our workers feel."
He sums up the Group's approach: "If you help people succeed, they will be loyal to you."The Group's objective is to be an employer of choice, and Mr Warrington states with confidence that for many people, AX Group is an employer of choice.
Meanwhile, asked whether the Group intends to launch AX Careers as a standalone business, building on its in-house success, he says there are no such plans for the time being. The Group sees AX Careers as a service helping its growth.
"The Group is built on three pillars," he explains. "Our assets, our finances, and our people. It is useless having any of those without the others. Assets need to be managed by trustworthy, skilled individuals, and we do our best to invest in our people as we do in our assets – by building up their value for the long-term."
https://axcareersmalta.com/wp-content/uploads/2022/02/MWs-post.jpeg
1414
2121
m7alpha
https://axcareersmalta.com/wp-content/uploads/2022/01/AXCareersLogo.svg
m7alpha
2021-11-01 21:16:48
2022-03-25 09:29:20
Once You've Raised the Bar, Candidates Will Respond