Reminiscing about my first few days on the job, I was pleasantly surprised by the amount of support I received from AX Group in the form of orientation, training, and regular follow up.
For the past four years, I've been working at AX Group, and during that time, I've achieved tremendous growth on both a personal and a professional level. The attitudes of each and every colleague at AX Group is one of the things that has the most impact on me. I am always able to witness a strong sense of determination and loyalty to the company. AX Group recognised my talent and enabled me to develop it by giving me more responsibility and latitude to embark on challenging new initiatives. As an IT professional, I've had the opportunity to collaborate on numerous projects and make new contacts with peers across all sectors within the Group.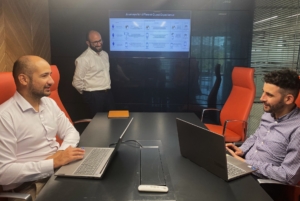 After starting off as an IT Project Coordinator, I worked my way up through the ranks to become the Business Transformation Manager for our Business Transformation department. As a company, AX Group is renowned for its creativity, high quality, and stringent standards. Being creative and innovative brings change, and the Company's culture reflects this. With the continuous advances in technology, a changing workforce, and competitive pressures drive us to take on new challenges and manage change.
The department I work in is responsible in implementing technological initiatives that improve the company's day-to-day operations and long-term goals. In my opinion, it serves as a vital connection between the executive vision and the actual work of the organisation. When one has the opportunity to work with such a remarkable group of people, going to work each day is a pleasure.  Every day at work, I am presented with new chances to develop professionally and intellectually, both of which are rewarding for me. My co-workers are some of the most interesting, bright, and dedicated individuals I've ever had the pleasure of interacting with, and as a team, we've contributed greatly to the improvement of our company.
"We tend to question the way things are done now to see if they can be automated or made more efficient" In my opinion, one of the most important factors in the Group's ability to implement successful IT systems was the engagement of stakeholders through the use of good communication.
https://axcareersmalta.com/wp-content/uploads/2022/08/AXCareers-Thumbnail-Artwork-4-scaled.jpg
1155
2560
casandra.pavia@axgroup.mt
https://axcareersmalta.com/wp-content/uploads/2022/01/AXCareersLogo.svg
casandra.pavia@axgroup.mt
2022-08-08 10:46:10
2022-08-16 12:00:04
Learning Opportunities Present Themselves on a Daily Basis