Ryan Muscat is an IT Systems Analyst within AX Group's Business Transformation Unit. In just over 8 months, Ryan has been instrumental in the Group's digital transformation efforts. He has expertise in the Therefore document management system and exceptional programming skills. Ryan has streamlined processes, integrated Docusign to eliminate the printing of agreements, and utilized metadata to improve operations. He is currently working on two critical projects: Digitizing AX Hotels Group's agreements and developing a new agreements system for AX Development. Ryan's contribution to the standardization of the agreement creation process and the integration with DocuSign has significantly improved AX Group's operational efficiency, accuracy, and sustainability.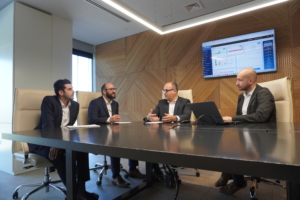 AX Group recognizes the importance of document management and the role it plays in improving our operational processes and decision-making capabilities. Our ongoing efforts to digitize documents, extract metadata, and enhance document accessibility have not only increased our efficiency and accuracy but also reduced our reliance on paper and contributed to our sustainability goals. One of the main advantages of digitizing our documents at AX Group has been the increased speed and ease of accessing and sharing them. This has significantly reduced the amount of time it takes to find specific documents and improved the overall efficiency of our workflows. By extracting metadata from these documents, we have also been able to use the information to improve our decision-making processes. For example, we can now easily analyze patterns and trends in our data, which helps us to make more informed decisions about our operations and strategies.
The Business Transformation Unit at AX Group is actively engaged in a number of projects that share the common objective of enhancing business operations. Specifically, our focus has been on increasing efficiency, centralizing and standardizing processes, improving document accessibility, and furthering the paperless effort. However, we faced a number of challenges during the digitization process at AX Group, such as dealing with large volumes of documents and ensuring that the metadata extracted was accurate and consistent. To overcome these challenges, we developed clear guidelines for document management and implemented quality control measures to ensure accuracy and consistency. Additionally, we provided training to our staff to ensure that they could use it effectively and efficiently.
https://axcareersmalta.com/wp-content/uploads/2023/05/Trial-4.png
3071
6817
casandra.pavia@axgroup.mt
https://axcareersmalta.com/wp-content/uploads/2022/01/AXCareersLogo.svg
casandra.pavia@axgroup.mt
2023-05-23 09:58:32
2023-06-13 11:36:35
Optimizing Efficiency through Streamlining Operations