They say the more you grow, the more you learn. This familiar saying holds true for our front office shift leader at AX Hotels Sliema, Kerr Floyd Subere and his team members. They recently had the opportunity to participate in the MTA cultural tour, and in the upcoming read, we'll get a glimpse of Kerr's reflections and takeaways from this intriguing experience.
Here's what Kerr Floyd had to say:
"The MTA cultural tour proved to be an informative and enjoyable experience for our team. We received a wealth of insights into the history of the three cities and going beyond their architecture to understand their importance in Malta's history.
Our tour guide made the learning process engaging and fun, and we had the opportunity to meet and connect with new people, allowing us to expand our professional network and form friendships along the way.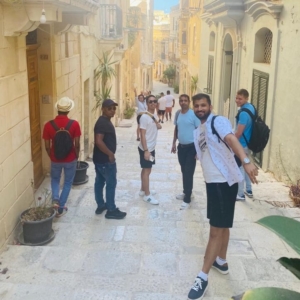 One aspect of the tour that particularly stood out was the insight it offered into the various modes of travel in Malta. The ferry, in particular, emerged as an excellent option for exploring the island. This is something we'll certainly recommend to our hotel guests, especially those interested in learning more about the island's heritage and resilience.
I want to extend my recommendation for this cultural tour to all my colleagues at AX. It not only enhances our ability to provide a better service but also allows us to go above and beyond in offering guests a richer understanding of Malta's culture."
As our employees continue to learn, we enhance the experiences we provide to our guests who visit our beautiful island and stay at our hotels.
https://axcareersmalta.com/wp-content/uploads/2023/08/12.png
1890
4195
casandra.pavia@axgroup.mt
https://axcareersmalta.com/wp-content/uploads/2022/01/AXCareersLogo.svg
casandra.pavia@axgroup.mt
2023-09-13 13:52:32
2023-09-13 13:55:05
Tourists for the Day: Enhancing Guest Experiences