On International Chefs Day, we're excited to shine a spotlight on the culinary talent within AX Group. Our professional chefs are the heartbeat of our kitchens, infusing passion and creativity into every dish they create. On this day we recognise the dedication and artistry of these talented individuals. In this article, we'll introduce you to the chefs who bring flavour and innovation to our dining experiences, each with their unique story and style. Join us as we celebrate the unsung heroes behind our delicious meals and gain a glimpse into their culinary world.

Chef Victor Borg – AX Hotels Valletta
Chef Victor Borg embarked on his culinary journey at the age of 15 in Malta and included prestigious stints in Switzerland and London, culminating in the opening of his own renowned restaurant 'Mange Tout' before joining Rosselli – AX Privilege. Inspired by the '80s tourism boom in Malta, Chef Borg's dedication and resolve led to a fulfilling culinary career. Chef Borg finds it rewarding to see the joy on customers' faces and in witnessing his student's progress and growth. With a philosophy rooted in ingredient-driven, seasonal cooking, Chef Borg has created signature dishes like Lasagne 'Nera' and White Chocolate Cheesecake. For him, when designing menus, seasonality, ingredient research, diverse choices, and complex flavour layers are paramount factors. His advice to the next generation underlines responsibility, continuous improvement, and enthusiasm for the craft.
For the full story, click here.

Chef

Steven Pisani – AX Care
Chef Steven Pisani's culinary journey began with formal education, progressing from Food Preparation and Production certification to a Bachelor's degree in Culinary Arts. His studies at I.T.S. and the Paul Bocuse Institute in France opened doors to opportunities in various hotels and restaurants in Malta and abroad, including the prestigious Michelin-starred "Lympstone Manor." Inspired by his mother's home-cooked meals from a young age, Chef Pisani considers customer feedback as the source to achieve work satisfaction. His cooking philosophy emphasises the art of creating multisensory meals, transforming simple ingredients into surprising dishes. His signature dish, chicken liver parfait with cider jelly, reflects his attention to precise timing and detail. In the process of designing a menu, his focus is on finding his market niche using local, seasonal ingredients. Chef Pisani's advice for aspiring chefs is to cultivate their passion and aim high.

Chef Joe Xuereb – AX Hotels Sliema
Chef Joe Xuereb's culinary journey began during his childhood at home, assisting family members at baking sessions and learning along the way. Inspired by baking and early experimentation, he pursued culinary education and interned at the Jersey Channel Islands. He further perfected his skills by working alongside renowned chefs in London and returned to Malta to become an Executive Chef. Joining AX The Palace in 2007, he played a vital role in establishing a new 5-star hotel, heading an Asian restaurant. By cooking with simplicity, he allows natural flavours to really shine through his dishes. When designing a menu he considers various important factors ranging from special requests, seasonality to culture and more. His advice for aspiring chefs is to pursue their culinary dreams with passion and resilience.
For his full story, read here.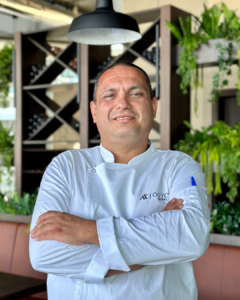 Chef Paul Borg – AX Hotels Qawra
Chef Paul Borg's culinary journey began as a kitchen helper 35 years ago during a summer job, leading to his passion for cooking. He pursued formal culinary education and spent the last two decades leading kitchen teams in various hotels and resorts. His inspiration came from combining passion and creativity. Chef Borg finds daily satisfaction in achieving culinary goals with his team's support. His cooking philosophy revolves around passion and seasonal ingredients, letting the food inspire the dishes. When designing menus, he considers guest demographics, seasonality, and budget. Summer is his preferred cooking season, and outside the kitchen, he enjoys gardening and caring for his pets. His advice to future chefs: master the fundamentals, stay open to culinary trends, trust your own taste, and be prepared for the demanding yet rewarding culinary journey.
For the full story, click here.
We are truly privileged to hold such talent within our culinary team that takes our valued customers' and residents' dining experience to new heights. The delivery of exquisite dining experiences is made possible by the enthusiasm, creativity and perseverance our chefs bring to the table. But we must not forget the talented teams that stand beside them every day – the sous chefs, kitchen staff, and front-of-house teams. Without their team's steadfast support, our chefs' gastronomic visions would remain unfulfilled. We extend our appreciation to all who help make our dining experiences possible, from the talented chefs to the dedicated teams behind them. Together, we continue to create signature dishes and memorable dining moments for our guests and residents.




https://axcareersmalta.com/wp-content/uploads/2023/10/Chefs.png
1890
4195
casandra.pavia@axgroup.mt
https://axcareersmalta.com/wp-content/uploads/2022/01/AXCareersLogo.svg
casandra.pavia@axgroup.mt
2023-10-20 16:37:34
2023-10-20 16:46:51
International Chefs Day 2023