03/10/2022
Cultivating a Knowledge Sharing Culture
During the month of September 2022, a workshop was held between the IT department and the Business Transformation Unit, along with AX Group CEO Mr. Michael Warrington and AX Group CFO Mr. Albert Bonello. Throughout the session, numerous suggested projects and incentives have been presented and discussed. Various subjects, including cyber security, networking, cloud & hardware infrastructure, and internal/external user experience, have been covered.
During the workshop, team members provided more innovative ways of improving and introducing new technologies in order to give our employees the most effective tools. However, evaluating the effects of these technologies on our clients and residents. Thus, integrating the needs of our internal employees with those of our customers.
What collaboration means in information technology?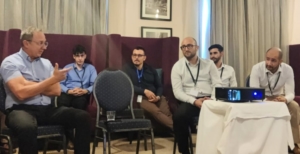 In the context of information technology, collaboration refers to any circumstance in which numerous participants (individuals, teams, or departments) work together to accomplish a common objective. Collaboration between the IT Department and the Business Transformation
department entails keeping business leaders, stakeholders, strategic partners, and IT teams engaged in order to create business results, effective collaboration, and efficient project management.
The IT Department and the Business Transformation department are committed to working together to help the team achieve a shared mission.